A Tribute to Zamboni


04/01/95 – 03/21/08

Thanks, my little buddy, without you our lives would have been so empty. It seems like yesterday that I went to Kay's Animal Shelter and walked through the cement and metal cages to the ones in the back and saw you. What a little guy with those huge eyes! I told the kennel man that you were the one. He wanted to know if I needed to take you out to be sure. I told him I was positive you were it! As we were filling out the adoption papers I told him I would be back, that you were going to be the most titled, most all around dog ever from this shelter. He just laughed as he put on your little blue collar with the brass tag # 4451. I don't think he believed me, but I could see how special you were.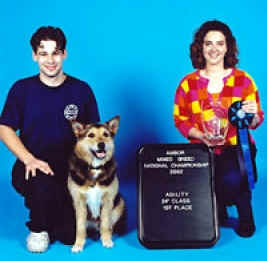 Thanks, my little friend, what wonderful people you have brought into our lives! My two just like sister's best friends Vicky and Anne. We had a great time at Dog Days of WI camps with them and Clipper and Tova, what more beautiful women could a guy have on his paws, I think the other guys were jealous. Remember, that first camp you had me scared that first night, it was pitch dark and you were not next to me on the bed. I whispered your name and the screen door opened and closed. You had decided to let yourself out and I am sure take a look around for yourself. You introduced us to the great instructors and nice friends at Lincolnwood/Dearlove who started us on our agility journey. Steve (aka Agility Nerd) and Nancy who loved the first real Border collie we had ever seen, Mr. Peabody, what a great ambassador for the Border collie breed, he was simply the best! Hey, buddy I hope you guys have met up and are having an awesome time. Pam and Sue, Elan and Thunder, always ready to give a helping hand and just be great friends. All of the wonderful people at Windy City Agility Club, Joan, Laurel, Arlynn, Barb, and Tom you all gave so much of your time and experience you could see his potential. Rand Park Obedience Club, we of course had to work on that obedience, thanks Anne and Alyiss for always telling me how special you thought Zamboni was. Thanks again, Anne Riba, for taking us to our first agility trial at Navy Pier where we saw flyball for the first time. We knew Zamboni just had to do it! We called up the Black Sheep Squadron flyball master instructors Karen and Larry who went out of their way to work with you and get you ready to run on the team, with their great dogs Cody and Simon. Helen, Misha, and Molly you could not have been nicer to us as we sat around waiting between races. Zamboni, have you met up with your old teammates you could have a fabulous team up there. You all left us with some great memories, the running at halftime for the Chicago Bulls and the Harlem Globetrotters. How exciting for us to be in the Chicago Stadium and Allstate Arena, just another race for you guys. Remember how jealous the men were when the Luv-a-bulls cheerleaders huddled around you! There are many more wonderful people that have come into our lives, like all of our new friends here in Tennessee, all because of you Zamboni, it would be impossible to name them all.
We never wanted this journey to end, little buddy; we thought we could keep you well forever. Never sick a day in your life, we thought we could make the Guinness book of records and be the oldest living dog. Zamboni, you have brought so much to our lives, we hope we made a difference in yours.
You helped develop our son, Anthony, into a young man. He competed in his first agility trial with you at the age of 15, you kept him out of trouble during those adolescent years by keeping him busy training and competing in agility. What a wonderful ride it was, so many weekends of fun competing in flyball, lure coursing, Frisbee, obedience, and of course agility. We would love watching Anthony waiting on the line painting the course with his finger in the air as you moved your head from obstacle to obstacle in the air as well. Who was leading who?
You have quite a resume: Flyball Master, ADCH in US DAA, NATCH, OTC, OJC-V, OAC-V, OGC-V in NADAC, UACHX and UCD in UKC, GS-E, JS-E, RS-E in AS CA, CL3-H, CL3-F, and CL3-R in CPE, CGC, TDI, and the 2002 24" AMBOR National Agility Champion. The AMBOR event certainly was a highlight in your career, a competition for all mixed breed dogs to shine. How appropriate that Dana Pike was the judge at this competition, since Anthony as well as many other agility handlers are known as Pikettes. We shouldn't leave out your competing in the Purina Incredible Dog Challenge in the high jump. The competition was aired on ESPN numerous times, you had a fan club! We received emails from people doing internet searches by your name. As well as receiving phone calls for months from friends and family telling us, "Hey, Zamboni's on TV!"
Zamboni, you are a true ambassador for the mixed breed dog, demonstrating the heights that a little mixed breed puppy from a shelter can achieve. Most importantly, because of you our lives have been changed positively forever. Dog people are the best.
Dear Zamboni please wait for us at the Rainbow Bridge, our home seems so empty without you.
All our love, Kris, Tony, and Anthony